Service Recovery in Healthcare: How to Get It Started for Your Practice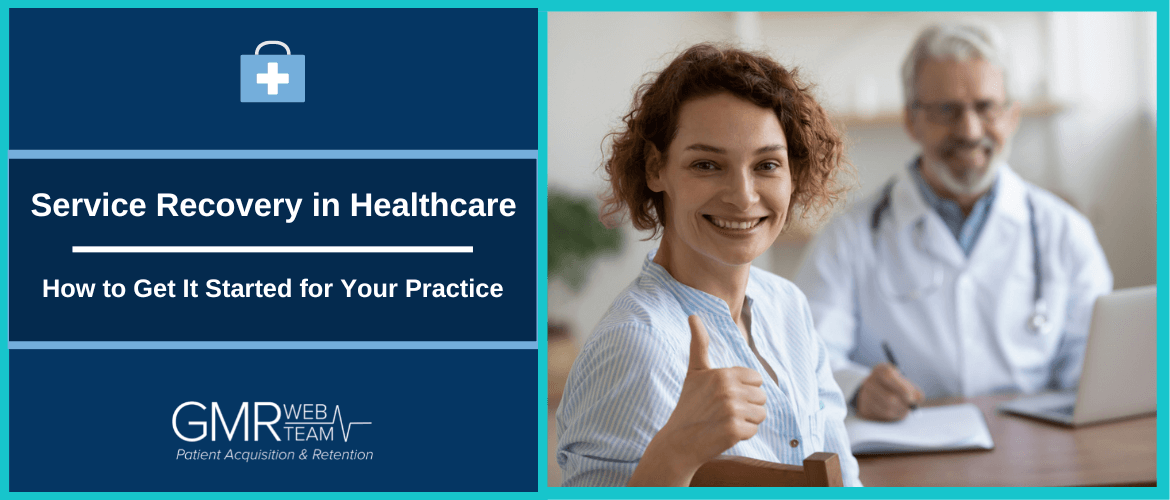 Customer service is non-negotiable for increasing and maintaining satisfaction and brand loyalty across all industries. With time, this trend has spread to the healthcare industry, and patients expect excellent service and experience at every stage of their care journey. As the services they receive and their overall experience with a healthcare provider sets the 'trust factor' and determine if they will return to your practice in the future and will recommend your practice to others. So let's learn how to keep up with patients' expectations and give them a hassle-free experience by using service recovery in healthcare for your clinic or hospital.
What is Service Recovery in Healthcare?
Service Recovery in Healthcare is the practice of identifying patients with an unfavorable clinical service or care experience and fixing such issues or making amends to rectify such situations. It helps to win back the trust and happiness of dissatisfied and unhappy patients. When patients feel that their needs remain unfulfilled or an employee's action has created a negative impact, that employee needs to address that situation and should opt for ways to convert that into a positive experience. After all, the key purpose of healthcare practices is to follow a patient-centric approach while providing healthcare services at affordable costs and making the patient experience comfortable and life-enriching.
Why is Patient Service Recovery Necessary for Healthcare Practices?
In today's world, service recovery in healthcare is crucial because it allows healthcare providers to meet patients' expectations and build their brand's reputation. It is an effective strategy that helps healthcare practices maintain their relationship with their patients and ultimately leads to more satisfied healthcare consumers. Failure to meet patients' expectations will make you lose patients' trust, and they will start considering someone else for their healthcare services. Service recovery plays a major role in creating a culture of kindness in medical practices. It allows the hospital staff to be more active, compassionate, caregiving, and empathetic towards their patients. Making your presence felt in a time of need and discomfort and keeping a positive attitude toward your patients' needs will foster patient confidence and loyalty.
In the healthcare industry, patient retention always provides a better return on investment (ROI), as statistics show that acquiring new patients costs five times more than retaining existing ones. Also, an existing patient is likely to spend more with each visit than someone who walks into your practice or clinic for the first time. This is because of the trust and confidence of the patients built throughout the years, making them more comfortable and satisfied with the healthcare services.
Steps to Implement Service Recovery Strategies for Healthcare Practices
If you wish to excel in service recovery in healthcare, here are some steps to consider:
#1. Anticipate patients' needs
Anticipating your patients' needs fosters trust and builds loyalty. It promotes a strong relationship between the doctors and their patients and makes the patient feel that they are in safe hands.
#2. Provide reliable service
The foremost strategy is to provide practical, comfortable, and flawless patient care. This requires proper commitment and proactiveness from your practice and staff.
#3. Take action immediately
Taking long hours to resolve an issue can be frustrating for the patients. So, the quicker you fix an issue, the better the chances for successful service recovery.
#4. Making amends
This is one of the possible ways to rectify a mistake. Offering a sincere apology, a solution to rectify the issue, or even a gift or a token of appreciation can be ways to do this. It provides a sense of consideration toward patients.
#5. Open and inclusive communication
Encourage patients to share their feedback by providing surveys and having direct and comprehensive communication where patients can share their feedback, concerns, and experiences without fear or hesitation.
#6. Build a process
It is vital to develop a strategy for different types of service failures as it helps to handle problems with consistency and assurance.
#7. Teamwork
Teamwork brings people together from different backgrounds, experiences, and notions. A team working together to resolve an issue will increase the organization's overall performance and help in patient retention at a faster rate.
Wrapping Up
Service recovery in healthcare has an impact on how patients communicate with their doctors, how they perceive your healthcare practice, and how likely they are to return for future care. What appears to some to be a minor annoyance is a significant setback for others, eroding patients' trust in your organization and its ability to provide safe, high-quality care. After all, how can they trust you with major health concerns if you can't get the little things right?
At GMR Web Team, we understand the importance of patient service recovery in healthcare. We know that an unhappy or unsatisfied patient may not just stop visiting your practice but could even end up sharing a negative word of mouth. Hence, we offer a strategic patient service recovery program for healthcare practices that help them with patient retention, thereby increasing their return on investment (ROI). If you wish to build a loyal patient base with our service recovery program, Contact Us today.